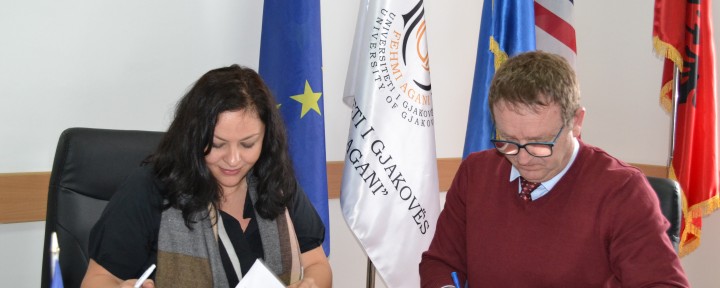 UFAGJ and Comsense Kosovo sign cooperation agreement
Rector of the University "Fehmi Agani" in Gjakova, Prof. Ass. Dr. Nimani, accompanied by Mr. Denis Spahija, Head of the Department for International Cooperation and Projects signed a cooperation agreement with Comsense Kosova, represented by Ms. Odesa Nuiq.
The agreement envisages strengthening and expanding relations with mutual exchanges in providing opportunities for internships, student employment, as well as research work. Comsense Kosovo will ensure that students are able to take the exam at the language assessment center, the document recognition process, the visa process, securing cooperation with German universities, seasonal work, etc. Also, UFAGJ and Comsene Kosova agreed to co-organize seminars and staff trainings.
The parties agreed to materialize the agreement in actions, coordinating joint activities.
The UFAGJ remains the institution committed to community service in general.