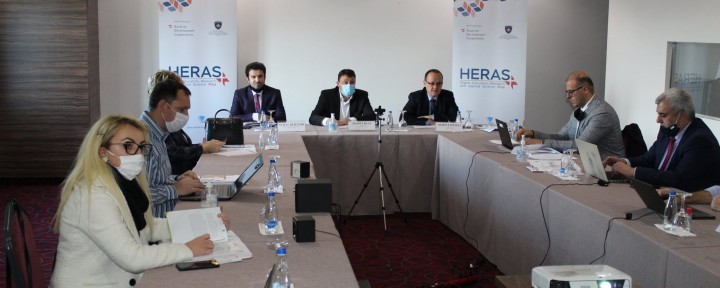 Meeting of the members to create Policies for Applied Sciences
Vice Rector of the University of Gjakova "Fehmi Agani" Vjollca Dibra, participated in the meeting of the Working Group on Policy Making for Applied Sciences, which was organized in a closed co-operation with the Ministry of Education and Science and HERAS Plus.
The meeting was also attended by Minister Ramë Likaj, who shared his experiences regarding the development of applied science policies in Kosovo, and encouraged the members of the Working Group (vice-rectors of Public Universities) to continue their work and use support for HERAS Plus, based on the Austrian experience. The international expert of this project, Mr. Almir Kovacevic ad-dressed the participants virtually and provided a summary of the best practices of applied sciences in Austria, including a guide to the policy-making process.
The HERAS Plus project manager, Mr. Aqim Emurli, said that they will provide general support towards drafting the regulatory framework in the field of applied sciences.
As another step, the HERAS Plus project together with the members agreed to develop several op-tions that will be presented to the MES for review and approval.