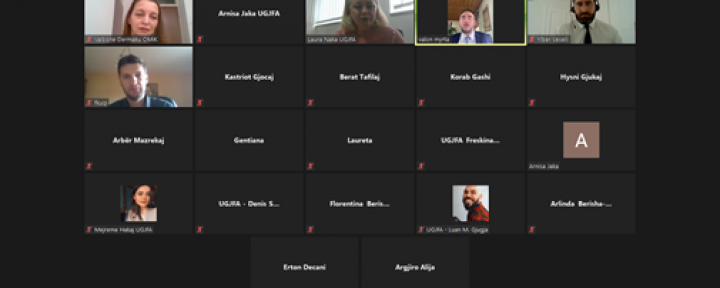 Student discussion on "Promoting mutual understanding and preventing violent extremism" was organized by the OSCE
Today a workshop for students was organized, by the Organization for Security and Co-operation in Kosovo, OSCE, Mission in Kosovo, in the form of a discussion on the topic of promoting mutual understanding and preventing violent extremism.
Participants in this discussion were the University of Gjakova "Fehmi Agani" which was represented by Vice Dean Prof. Ass. Dr. Laura Naka and the students. The freeting speech was given by the Vice Dean abovementioned who thanked the organizers for this initiative.
The meeting was moderated by Ylber Veseli, Local Program Officer, the OSCE Mission in Kosovo, where guests were: Dr. Valon ef. Myrta, President of the Council of the Islamic Community, Gjakova, Valbone Dermaku, Local Human Rights Advisor, the OSCE Mission in Kosovo and Prof. Kastriot Gjocaj, Manager of Dukagjini College, Peja.
Topics that were discussed in this online workshop were: defining the notions or radicalism and extremism, understanding, religious tolerance, the difference between terrorism and radicalism, etc. The discussion was interactive as students during the lecture on these topics showed interest by giving opinions and asking questions.
The organizers expressed their satisfaction with the discussion held today and expressed their openness to continue such events in the future, receiving the support of the participating institutions.