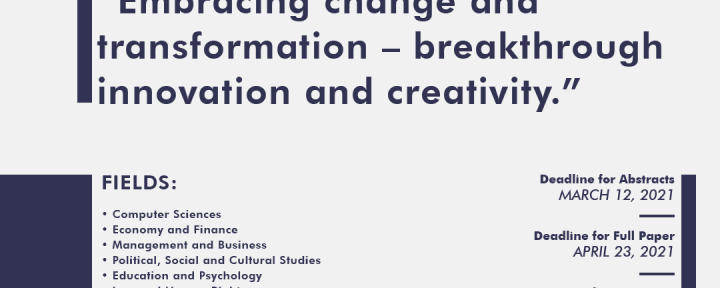 Invitation from New York University Tirana for the Second International Conference on Social and Applied Sciences which will take place on 20-21 May 2021
Professors, lecturers, researchers and students are invited to attend the Second International Electronic Conference entitled "Embracing change and transformation - breakthrough innovation and creativity" organized by the New University York Tirana.
Due to the global coronavirus pandemic, the conference will be held online through the Zoom platform on the 20 -21 May, 2021.
The conference welcomes researchers from Albania, the Balkans and beyond to present research and findings to local and international experts, part of the research community. It also provides an interdisciplinary forum for practitioners and teachers to present and discuss the latest developments related to innovation and transformation in areas such as: Computer Science, Economics and Finance, Management and Business, Political, Social and Cultural Studies, Education and Psychology, Law and Human Rights, Marketing and Media.
The language of the conference is English.
There is no participation fee.
Important dates:
March 12, 2021 - Deadline for abstract submission.
Includes an extended abstract of 300 - 500 words. It should provide information on the purpose of the contribution, the intended benefits to a reader, the main methods used and the findings. Authors should follow the conference guidelines for the extended format and content of abstracts that can be found on the conference website. Please submit your extended abstract to
[email protected], using the attached template.
April 23, 2021 - Deadline for full submission of the letter.
May 20-21, 2021 - Conference Day.
For more details about templates, author guidelines and registration, please visit: http://ijbs.unyt.edu.al/index.php/category/conferences/.